About the Book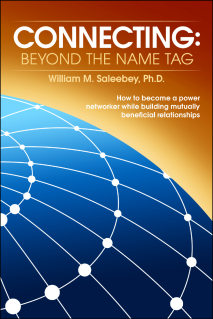 How and why do people connect? This is the premise behind this in-depth look into the world of business networking which exposes the psychological nature behind human interaction. Tapping extensive personal experience and numerous examples, Dr. Saleebey reveals the keys to becoming a successful networker by sharing his holistic approach to making connections or "networking as a way of life." Whether you are seasoned veteran or just beginning, this book will help you move beyond the name tag when making connections so that you begin to build and maintain long-term mutually beneficial relationships.
Major Topics Include:
CREATING A POSITIVE IMPRESSION
NONVERBAL COMMUNICATION
GROUP DYNAMICS
NETWORKING ONLINE USING SOCIAL MEDIA
GETTING TO CENTERS OF INFLUENCE
PERSONALITY TYPES AND NETWORKING
FOLLOW-UP TECHNIQUES
HOW TO MAKE MUTUALLY BENEFICIAL CONNECTIONS
About the Author:
Dr. William M. Saleebey is the foremost expert on the psychological dimensions of personal and business networking . He has over 25 years experience in networking which he has used to develop an outstanding referral network. This vast experience, coupled with strong psychological credentials, make the information relevant and useful.
Testimonials:
"Brilliant! Superbly written, packed with insight and practical tips. Dr. Saleebey taps his immense gifts for relating to others with years of success in the business world to bring to life the many nuances of networking. With example after example, he elaborates how networking not only enriches our lives but enhances the lives of everyone around us. In an easy, conversational style, he underscores a simple truth: our need to belong is met tenfold through effective networking skills. This is a highly comprehensive and reader-friendly work."
Louis F. Markert, Ph.D., Professor of Counseling and Psychotherapy, UCLA
————————————————————————————————————————————————
"Dr. Bill Saleebey has captured the real essence of networking that the most effective approach is to adopt it as a lifestyle. He has removed any negative stigmas about networking by reinforcing the benefits of sharing, first and foremost, and not asking for anything in return. This book is a must read for both the novice and experienced networker."
Davis R. Blaine, Chairman, The Mentor Group; Managing Director, ProVisors
————————————————————————————————————————————————
"This book reveals the psychology and process of relationship building for business and life. It takes the mystery out of networking and lays out a practical framework for building sustainable relationships of trust, friendship, support, and sharing. Whether one is selling products or services, building a circle of trusted advisors and resources, or cultivating referral relationships, this book is for you."
Gordon Gregory, Chairman and Managing Director, Mosaic Capital LLC & Managing Director, ProVisors
————————————————————————————————————————————————
"Networking is as much science as it is art. It involves focus, intention, organization and pragmatism. Dr. Bill Saleebey is focused, intentional, organized and pragmatic. Read this book. Keep it by your desk. Red-line the hints. You'll be better than you thought possible."
Mike Altman, Principal, Simon Altman & Kabaker Inc.
————————————————————————————————————————————————
Book Details:
| | |
| --- | --- |
| Author: | William M. Saleebey, Ph.D. |
| Publisher: | Believe Publishing |
| Language: | English |
| Binding: | Perfect Paperback |
| Pages: | 144 |
| Size: | 6″ X 9″ |
| ISBN 13: | 978-0-9842396-0-3 |
| ISBN 10: | 0-9842396-0-X |
| Price: | $15.95 |
| Order: | |
| | |